Who We Are
Part of a family-owned heritage with more than 134 years of business and history you can rely on, Bernhardt Hospitality crafts fully custom and inline furnishings for the lodging, senior living, multi-family, commercial and country club industries.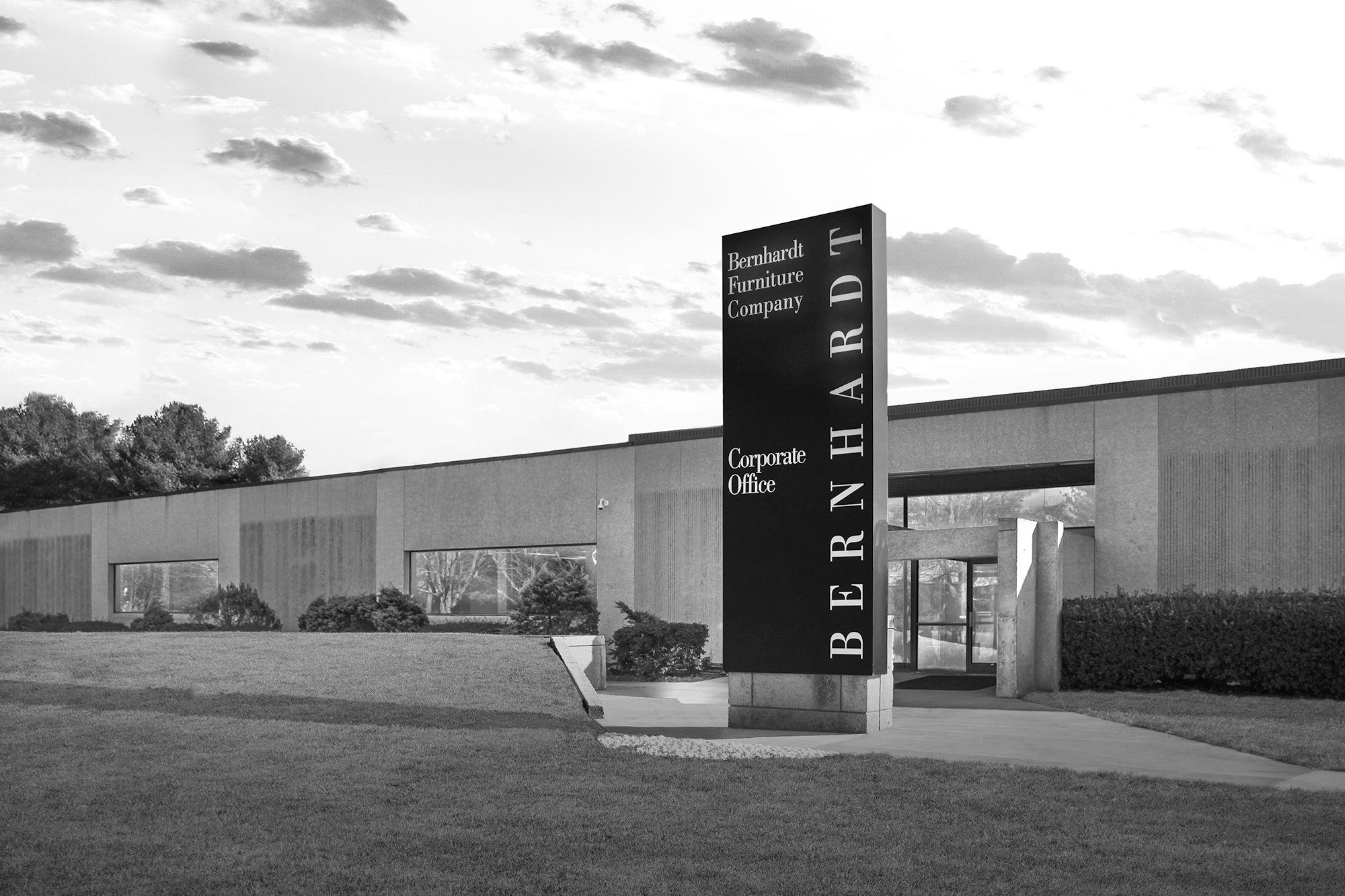 Headquartered in Lenoir, NC, Bernhardt is a luxury heritage brand that has long been associated with iconic furniture design. Founded in 1889 by John Mathias Bernhardt, the company's history began over 134 years ago. Since then, families of talented artisans and employees have passed down their skills, creativity and artistry, forming the bedrock of the company. Today, Bernhardt continues that legacy with a passion for inspired design. Led by the family's 4th generation, Bernhardt has grown into the country's largest family-owned furniture company and a leading global furniture manufacturer, with eight manufacturing facilities in North Carolina, six offices overseas and sales representatives in 50 countries. Characterized by the use of uniquely beautiful materials and an elevated design aesthetic, Bernhardt furnishings are instantly recognizable. They can be found in beautiful homes, hotels, offices, universities and other fine properties worldwide.
EXECUTIVES
ALEX BERNHARDT, JR.
---
President and Chief Executive Officer
WILLIAM COLLETT
---
Chief Operating Officer
President, Bernhardt Ventures
ALEX BERNHARDT, SR.
---
Chairman
ANNE BERNHARDT
---
Vice Chairman
JERRY HELLING
---
President, Bernhardt Design
STEVE PILGRIM
---
President, Bernhardt Residential
NEILL ROBINSON
---
Executive Vice President
General Manager, Residential Casegoods
HARLAND DICK
---
Executive Vice President
General Manager, Residential Upholstery
DALLAS CHAPMAN
---
General Manager, Bernhardt Hospitality
DIVISIONS
BERNHARDT RESIDENTIAL
Established 1889. Produces a wide range of luxury indoor and outdoor furniture. Includes the Bernhardt Interiors, Bernhardt Exteriors, Bernhardt Loft and Bernhardt Workspace brands. Available through global retailers and residential interior designers. 
BERNHARDT DESIGN
Established 1981. Contemporary office furniture and textiles for the contract market. Available through architectural and commercial design firms.
BERNHARDT HOSPITALITY
Established 2009. Commercial furniture for the travel and leisure market. Available through architectural and commercial design firms.
GIVING BACK
The Bernhardt family and Bernhardt Furniture Company have been a part of western North Carolina for over 134 years, and the company is deeply committed to supporting its local community. A portion of all profits is reinvested in a range of local nonprofit organizations in Lenoir and the Caldwell County area. Bernhardt is the largest supporter of United Way of Caldwell County, which in turn supports 16 local agencies. The company's support for United Way spans decades, and with employee pledges and company contributions, accounts for an average of 50% of all donations Caldwell County's United Way receives each year.
In 2007, the Bernhardt Furniture Foundation was established to augment the efforts of the company and its employees, focusing on giving to health care, education, and crisis/community support. Foundation grant recipients include nonprofit organizations in Caldwell County and surrounding areas. Since its beginning, the Foundation has given money to over 60 local nonprofit organizations and funded more than 300 grants to date. The Foundation's largest grants have been awarded to:
Communities in Schools (CIS) – CIS provides mentors for students in need of academic support in grades 6 through 9. Bernhardt supports this program not only monetarily, but also by supplying more mentors than any other employer in the county.
Caldwell Memorial Hospital Foundation – This foundation supports the hospital's mission to provide quality health care to Caldwell County residents.
Helping Hands Clinic – The clinic offers affordable health care to uninsured Caldwell County residents.
Shelter Home of Caldwell County – This nonprofit is a safe haven, providing emergency services and support for victims of domestic violence.
Yokefellow of Caldwell County – An organization providing a food pantry and monetary aid for basic needs such as utility bills and rent.
Robin's Nest Children's Advocacy Center – This group pursues justice, provides hope, and promotes healing for children who are victims of abuse.
We are dedicated to continuing our efforts to help those in need.
ENVIRONMENTAL COMMITMENT
Bernhardt believes that protecting our environment is, to put it simply, the right thing to do. The company is committed to environmental excellence in all of its business activities, from design to manufacturing, pledging to promote sound and sustainable business practices for the benefit of all. As a sign of this commitment, Bernhardt established a comprehensive set of Environmental Policy Objectives and company-wide initiatives that focus on meeting these objectives. These objectives focus on:
Energy Use
Water Use
Emissions and Air Quality
Packaging
Waste Reduction
Renewable and Sustainable Materials
Product Stewardship
Supply Chain Management
Environmental Programs/Affiliations
Employee Awareness and Involvement
"We want to go beyond simply complying with environmental legislation and regulations. We want to become leading supporters in our community and industry."
Alex Bernhardt, Sr., Chairman, Bernhardt Furniture Company
ETHICAL SOURCING
Bernhardt endeavors to conduct business in compliance with all laws and widely accepted norms of fairness and human decency. The company expects its suppliers to do the same. Bernhardt is committed to protecting the human rights and safety of the people who produce its products, raw materials and component parts used in production, while also recognizing and respecting the cultural and legal differences found throughout the world. Bernhardt pursues these goals through a variety of means. To learn more, read our California Transparency in Supply Chains Act of 2010 Disclosure.
DIVERSITY
Bernhardt is an equal opportunity employer that values diversity and inclusion. Family is at the heart of who we are. We are a family where everyone is welcome and everyone is treated equally. Now more than ever, companies play an important role in creating a more inclusive and equitable society for all. We strive to build and nurture a culture where inclusiveness is more than just an initiative. It's an enduring, unshakeable core principle. As such, our diversity and inclusion strategy is embedded throughout our business. We celebrate multiple approaches and different points of view. Our commitment to diversity, inclusion and equality is unwavering.